HOKA ONE ONE: NEW TO RUNNERS NEED 2016
Brand new to Runners Need this season, HOKA ONE ONE's unique approach to running shoe designis defined by higher volumes of ultralight cushioning, a low heel-to-toe drop and extended rockers. This encourages a more natural running gait and helps reduce the risk of injuries. HOKA construct 'maximalist shoes' to protect your feet, all while keeping their footwear astonishingly lightweight.
3 design features which define the HOKA range…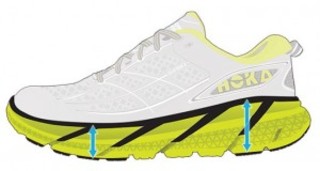 [1] Lightweight, performance-specific cushioning is double the volume of regular running shoes without adding weight. This offers high levels of comfort and shock absorption and helps reduce fatigue, especially on long runs and marathons. The neutral Clifton 2 weighs-in at an ultralight 235g (men's 9).
HOKA studied the high injury rate of runners (running at a marathon pace of 20kmph/12.5mph can triple the impact of your bodyweight) and recognised the need for extra cushioning, but not at the expense of weight or performance.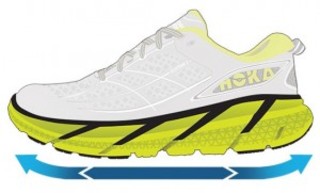 [2] Meta-Rocker Geometry offers a low heel-to-toe drop combined with large rockers on the heel and the forefoot of the outsole. HOKA shoes have drops ranging between 2–6mm, which is low compared to most running footwear brands.
Low drops promote a more natural and efficient running gait but require more strength to lever the body over the forefoot. This means that low drops can be restricted to more advanced runners. To make their footwear more accessible to runners of all experience levels, HOKA combine low drops with radical rockers which help assist the runner by rolling them forward.
HOKA also analysed how Paralympians perform better over marathon-length distances (because wheels have more contact time on the tarmac than shoes). This is why their footwear has a rounder shape (courtesy of the large rockers) than typical running shoe designs.
[3] Active Foot Frame sits the foot inside of the midsole rather than on top of it, which is designed to offer stability for a wider range of foot shapes without adding weight or supportive posting.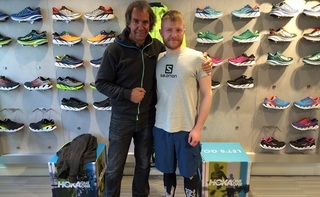 How did I rate the Clifton 2?
(pictured with co-founder Jean-Luc Diard at HOKA HQ in Soho, London)
The Clifton 2 is an extremely cushioned and lightweight neutral road shoe, making it ideal for longer-distance running and racing. The No-Sew SpeedFrame upper is highly breathable, while the pumped-up compression-moulded EVA midsole provides incredible ultralight comfort.
Don't let the shoe's bulky construction fool you; it's remarkably lightweight. The pumped up EVA midsole provides plenty of cushioning without being squishy like a marshmallow, so you still feel confident that your foot is receiving the support that it needs. This will be especially important on longer distances when your gait begins to break down!
I've only tested the Clifton 2s on a few 3-5-mile runs, so it'll be interesting to see how much support they provide across longer, more demanding distances. The HOKA team claim that the best marathon time (at the time of writing) clocked in the Clifton 2s is a speedy 2 hours and 15 minutes, so I'll be keen to see if I can shave some minutes off of my half marathon PB, which currently stands at 2 hours and 7 minutes.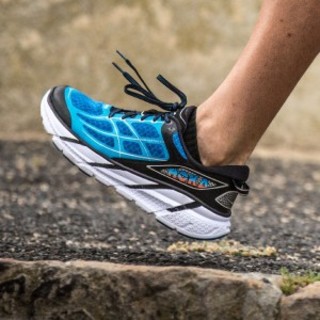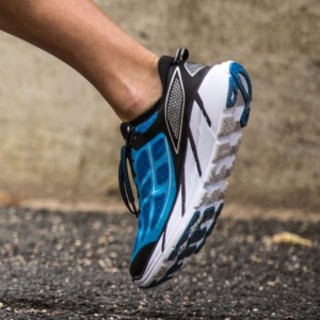 Coming from an ultra trail background, these shoes also do a fantastic job of absorbing stones and debris on the road. When I experimented with running over large pebbles wearing the Clifton 2, the impact was completely eaten up by the plush rubber pods on the outsole.
With their unique construction, it should come as no surprise that these shoes have a different 'feel' to them that will require a few runs to get used to. If you test them out and stick to them, it won't take you long to feel the benefits!
The Cliftons 2s are purely for running; I wouldn't recommend them for sports that require lots of explosive side-stepping, like squash.