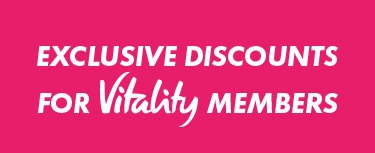 Runners Need have partnered with Vitality to provide their members with an amazing member-only offer; 50% off any pair of trainers!
As a Vitality member, this exclusive Runners Need offer will help you make the most of every step, with quality kit to keep you active.
Whether you're aiming for a 5k, 10k, marathon or just kick-starting a new healthier lifestyle, we've got the best running brands to help you reach your fitness goals. Our stores across the country have passionate and friendly in-store experts ready to help you find the perfect kit.
This fantastic 50% off footwear offer is the perfect way to enjoy your favourite sport for less. Shop our great range of brands available online or pop in-store to get a free treadmill gait analysis! 
- Click the button below to register/ login to your Runners Need account.
- Add your Vitality membership number and date of birth in the pop-up.
- Your Vitality discount is now applied to your account. 
- Add your chosen pair of running shoes to your basket and your discount will automatically be applied.
You do not need to go through the discount process again - just go straight to the basket stage.
- Your discount will only be visible at basket.
- Visit your nearest store, where the Runners Need staff can help find the best pair of shoes for you.
- You will need to register or inform the staff at the till that you have a Runners Need account.
If you are already registered and have tried to use your discount online, please ensure you give the staff your registered email address to ensure the discount is applied.
- At the checkout, the staff will require a form of ID, your Vitality membership number and date of birth.
- Your discount will be applied to your shoes.
Please note you can add your child's discount to your account by using their membership number and date of birth.
However, only one Vitality discount can be used per transaction.
To be eligible for the 50% off a pair of sports shoes at Runners Need offer, you must be covered on a VitalityHealth or VitalityLife plan; a VitalityInvest Retirement Plan in drawdown with Vitality Plus; or be a beneficiary under a trust scheme administered by VitalityHealth.
This offer is limited to one pair of discounted sports shoes per member, per plan year.
This benefit can only be utilised by members of your plan. Any re-sale or distribution of sports shoes to persons not on your plan is a breach of Vitality terms. Vitality reserve the right to take action consistent with our legal rights against you in the event of any suspected dishonest or fraudulent behaviour.
The 50% discount is available on one pair of full-price or sale price sports shoes in store or online from Runners Need.
To redeem the 50% discount in-store, you'll need your Vitality membership number, plus an additional form of ID (such as a credit or debit card) in the same name.
To purchase shoes online, each eligible member on the plan will need to register with Runners Need and enter their Vitality membership number at the checkout in order to receive the 50% discount. Only one Vitality discount can be applied per transactions. Each eligible member will need to apply their discount in separate transactions.
Any unused discount in a plan year will not carry over to the next plan year.
If you purchase more than one pair of sports shoes for yourself in a single transaction, the discount will automatically be applied to the more expensive pair.
The Vitality discount does not apply to any other items purchased at Runners Need.
The Vitality discount cannot be used in conjunction with the Price Match Promise offer.