2019 Virgin Money London Marathon: Lisandra's Training Diary
Big Question Marks?
22nd April 2019
Today marks 6 days to go until the LM and I have so many questions popping up in head. I am getting super excited and it feels like I can only talk about my training and running. My friends will soon be avoiding me – tired of hearing me talking about the training sessions. 
I am wave green therefore I will only start running at around 10ish – what if I get hungry by then? Should I carry a banana with me? What if I need the loo in the middle of the run? Should I stop or just keep going? Should I carry my hydration vest with me just in case? Should I have my name printed on my tee? What if I hit the wall that everyone talks about?
During my long runs, all of which I have done alone, I have pictured that at the marathon it would be different. I will have all the support from the public who will be cheering thousands of other runners as well. In addition, my 3 favourite people – Marko and the boys – will be there supporting me. Picturing them in the middle of the crowd gave me the additional mental strength. 
However, it seems like my family may not be able to support me on the big day. I have known this for about 2 weeks, however I have only mentioned once to a friend that not having my family there to support made me a bit sad. But yesterday, it all came out in the form of tears. Suddenly my mental strength has been taken away from me and I will not have them there to look for in the crowd. I needed this distraction to keep me going – I have practiced hard during my long runs in situations when I felt tired – all I need to do is look for my boys. Now that I know that they may not be there, I have thought of two new mantras to keep me pushing, in case I hit the wall. One is the Champagne waiting for me at the finish line and I will repeat this over and over again! Another mantra is: "I will climb the wall" and I will repeat this over and over again, until the bad patch goes away.  
Also there will be thousands of people and I am sure I will be fine. I have trained hard and now I won't let anything spoil the chance to enjoy running the London Marathon. Slowly a dream is coming true.
Do you have a mantra as well? 
The Longest Run – 32k 
17th April 2019
Last weekend was a bit crazy for me. As a family we had too many plans for Saturday and Sunday, so running on Saturday was not an option. I knew it was going to take me over 3 hours to run 20 miles and I had to run on Sunday morning before the boys' swimming classes.
On Saturday night I had a nice meal and only one glass of red wine. I set my alarm clock for Sunday at 5:00am since I wanted to make sure I had enough time to have a good breakfast, get ready and leave at around 6am. 
When my alarm clock went off in the morning, I felt like crying – I didn't sleep well since one of my boys wasn't feeling great and woke up many times during the night. I felt like switching off the alarm clock and going back to sleep. Somehow, still not sure how, I managed to get out of bed. I knew I was going to hate myself if I stayed in bed and missed the opportunity to run.
Breakfast was a bagel with peanut butter and banana as usual, and a coffee. Around 45 minutes later I was ready for the longest run until the big day.
At 6am the sky was still a bit dark and my plan was to start at Richmond park, but I didn't feel safe to run there by myself when it was still early dawn with low light. Anyway, I kept running on the tarmac until it was bright enough to join the running path.
I was surprised that It took me almost an hour to see the first person running – having in mind that this weekend was going to be the longest run for many people who are running the London Marathon. I expected to see more early birds, but it felt like I was the last surviving person with just a few animals around (foxes, bunnies and an odd duck).
Nevertheless, I was really looking forward to this run. Mentally I needed to run 32k to make myself really believe that I am ready for the marathon. All the way until 25km I was feeling good. After that I started to feel a bit tired but never exhausted. I wished I had one more GU gel with me to help me with these last 7km. So many different things were going through my mind over the last few kilometers, that I only realized I was near the end when there was just one final km to go. And somehow again I pushed myself and that last kilometer was my fastest of the whole session.
You know what – it is hard to wake up so early, especially when you are a mother of twin toddlers and you are waking up before them instead of staying in bed. However, I have to say that I really loved the fresh air early in the morning. With almost no one around, so I could have run zig-zag in the middle of the road if I had wanted to. It is almost a shame that there was just 3 weeks to go until London marathon after this run, when I fully realized how great it is to wake up early and go for a long run when you are still fresh and not tired from the whole day full of activities.
Now, it is time for tapering.
A Few Thoughts...
9th April 2019
During my last few runs I have been thinking what my next challenge will be once I have completed the London Marathon.
By now I am very used to exercising 4 times a week – so should I then look for another marathon in the second half of this year? Or pursue a 10k / half marathon PB? Maybe swimming The Serpentine in Hyde Park in September? Or even a cycling challenge at some point?  
I think I have mentioned before that I always need to have a goal in order to keep training – if there is a goal to be achieved, it makes me very determined to reach it. It is probably the pressure that I create for myself that pushes me to overcome the obstacles.
In addition, I am loving the amount of food which I have been able to eat without gaining any weight!  Admittedly, I don't gain weight very easily (lucky me!) but I have always looked after what my diet. At the moment I'm feeling virtually constantly hungry and I don't let a piece of food easily pass by. I'm a bit nervous that once I stop training for the marathon I will continue to eat similar amounts and will consequently start to see the unwanted extra weight appearing. And that is the additional reason for looking for another challenge.
Talking about eating made me think about which gels I will take with me for the marathon. I have tried quite a few different brands since I began training in order to establish which worked best for me. I came to conclusion that GU gel is my favourite – I just love the salted caramel taste. If I am doing a long distance run, at some point I start craving for something savoury so the salty taste helps.
Another area where I have decided what to use for the marathon is my gear – I will be wearing my London Edition Impact shorts and whether I wear a t-shirt or a tank top will be largely decided by the weather on the day. I am definitely wearing the New Balance 1080v9 shoes – I have done all my long runs in this shoe so I wouldn't want to run the marathon in anything different. 
Hello Spring!
27th March 2019
I can't believe we are already in late March! Where has the first quarter of the year gone?  I was probably too busy running and didn't notice the months passing by. 
More importantly – the spring has finally arrived, cherry trees are blooming and the sun is shining. My run yesterday was amazing. The weather conditions were perfect for me – neither too hot nor too cold – the shorts and tees season has arrived!
After the Reading half marathon, I have missed an entire week's training sessions due to a combination of a stomach bug and a nasty cold. I wanted to run, however decided to listen to my body and have a break. Maybe the cold was a sign – my body trying to tell me that I needed a break from ALL sports. 
My longest ever run (30k) was supposed to be on Sunday. However, on Saturday night I was going out with Marko and some friends to a special fine dining dinner which I knew was going to involve a few glasses of champagne and red wine. Therefore, I made the executive decision to run on Saturday morning instead of on Sunday. Probably my best decision ever!
I must admit that I was a bit nervous about this run, I kept worrying whether I had fully recovered from the cold/cough? The fact that I didn't run during that week was also making me anxious. I was concerned that reducing the mileage during the week could have made this long run much harder. However, it actually this may have helped and my legs felt fresh.
Off I went, I had GU gels with me and SOS electrolytes to ensure I was drinking small amounts often, in order not to feel too thirsty as that has happened to me before on my long runs.  For a change, I decided to run without any music for the first 20km and only switched on the music for the last 10k. What if something goes wrong on the marathon day, and my headphones don't work? I wanted to make sure I was able to run without any music. And I proved to myself that it wasn't hard at all – I can run without music if needed. 
When I started my run, I wasn't sure what exact route I was going to take, but what I didn't want to do is to run a few laps of Richmond park yet again. I would simply get too bored running 30k there. So I decided to run to Bushy Park for a change, do a loop in that park and then head back by Hampton Court Palace and finish the last 8k at Richmond park. I loved this route, so much so that in two weeks time I will be running 32k so I will run this loop again by adding another 2k in Richmond Park. 
In hindsight, I have to say that I am glad that I had run 28k on a very windy day the other week, and that I ran Reading half marathon with a stomach bug/cold – these two runs made me stronger and the 30k run felt much easier than I thought it was going to be. I finished the run with tired legs but feeling I could have gone further. I am feeling very positive and cannot wait any longer for the big day. All I can hope now is for no injuries between now and the 28th April!
Marathon Official Kit! 
21st March 2019
Back to reality, back in the office to find a parcel waiting for me on my desk. I was expecting samples from my suppliers, but to my surprise it was a gift from New Balance – the main partner of this year's London Marathon. 
Nicely packaged, in a beautiful box – there was the Official London Marathon gear: a Capri, a jacket and a t-shirt which I loved! 
All the pieces can be found here. 
The Wind & 28k in The Bag! 
9th March 2019
Back in London from our skiing trip late on Saturday night, cranky toddlers on Sunday morning due to lack of sleep and swimming classes late morning resulted me yet again having to run in the afternoon.
I made sure I ate a big breakfast and before heading out for my long run I also had a banana – I obviously didn't want to be hungry while running. 
At around 1sh I left home to face something I have never done before – 70mph wind during my run. No matter which direction I ran, I always seemed to run against the head wind!
At the km 10 I was already exhausted, the wind was so strong that I felt I wasn't moving at all. By the km 14 I started panicking – I had no stamina to keep going against this wind. I had to walk quite a lot, and while walking I texted my experienced marathon runner friends – and they all sent me audio/text messages of support. So thank you to Kirsty J who is also running London Marathon this year and two of my best friends back home Clau & Re! Their words helped me wipe the tears off my face and finish my 28k training session with a smile. 
This was certainly the most challenging run in my life, and it wasn't the distance that made it difficult. It was a mind game – one of running and walking against the wind. When I got back home after 3 and a bit hours of running, an amazing meal prepared by Marko full of protein was waiting for me. So I can't complain really. 
Running in The Snow - #happieroutside
2nd March 2019
Last Saturday the 4 of us and another couple, also with a toddler, made our way to the airport – destination Obergurgl, Austria. We had booked this ski holiday almost a year ago when I had no idea I was going to be training for a marathon. 
The day when we arrived I was supposed to complete a 15k run, but due to the flight being delayed and this being a family holiday, I had to miss my run. This made me feel quite guilty. 
On Sunday morning, the sun was shining, the sky couldn't have been more blue and off I went to learn how to ski. I have been snowboarding for 15 years but decided that I needed to learn something new during my last year before turning 40 years old. So, on the very first day, I had my first lesson with my hubby (who is an experienced skier) just to learn the basics, followed by day 2 with the skiing instructor. On day 3 I skied the whole morning again, had a few "special" hot chocolates and in the afternoon, once the kids were sleeping, off I went for a hill run in the snow. This wasn't too bad, legs were still ok! I loved the hill session in the snow. Since I used to live in Zurich I have a thing for the mountains – I just love being outdoors, especially in the mountains. 
On day 5 I have again skied the whole morning, with legs now starting to feel tired, and there was an 8k run the following day which I looked forward to. Initially I thought about running on the treadmill, but the weather was too nice to be indoors. I am a big believer in the theory that we are happier outside. So off I went again, left my road shoes, the New Balance 1080v9  in the hotel and swapped them with my Inov-8 X-Talon 230. 
The run ended up being only 5k, I didn't managed to run 8k due to the terrain been too icy! I actually fell twice, and decided that it wasn't worth risking an injury just 50 days before the London Marathon. I had a great time running in the snow in Austria. The X-Talon 230  has an amazing grip in the snow. 
Overall, this last week my marathon training wasn't great. I missed a day of training and one session I didn't manage to complete. But more importantly, I had an amazing holiday with my family and friends. I love running and I'm taking the marathon training very seriously but I don't want it to take over my social life which is my priority. My legs are still sore from skiing –  does this count towards the marathon training?
Brighton Half Marathon
24th February 2019
The excitement was extremely high. I always get excited a few days before a run! I call it a run and not a race. I find it hard to say "race", since I don't think I am really racing in it.
When I decided to take part in the London Marathon, I was told by a few people that I should also plan a few races in between - 10km runs up to a half marathon. Therefore, I've decided to enter both the Brighton Half and the Reading Half - they are 3 weeks apart from each other. 
However, recently something has begun to worry me - I've been getting shin pain - so I was going to take it easy at the Brighton Half! Yet, when I got there the weather was beautiful. I couldn't have had better weather - a 14 degree C sunny day in Brighton with no wind at all! Just perfect. To make things better, the pain in my shins didn't trouble me. I felt happy and energised with all the supporters along the way - and loads of them families with children. Even my boys were there to support - it's the first time they had been to watch me run. 
With all the happiness and endorphins kicking in, I felt I could push on. I wasn't going for a PB - this wasn't the idea. I was trying to get some indication of what time I could potentially do in the marathon. Apparently, the easy way to calculate this is: the half marathon time x 2 + 10%. Is that the correct formula?
Back to the Brighton Half - I loved the course, running most of the 13 miles right by the sea was incredible. The volunteers did all they could to organise the race well. I was amazed by their plastic-free approach to this race - including no plastic cups in favour of paper cups. 
At the end of the race everyone received a Runners Need goody bag with a banana and some other nutrition, plus a steel can with water. Again, no plastic. Just great.
Nutrition
19th February 2019

 
I have been asked by quite a few people about my diet. One thing I can say: marathon training is making me very hungry – especially after a long run I feel I could eat a whole cow! Actually, not straight after my run, but 30 minutes after the run - something happens that really opens up my appetite.
 
I'm not a nutrition specialist, so just to make it very clear: this post is not an advice to anyone, it is just me going through what I eat pre and post my runs.
 
I have been advised by my coach Sam Murphy that "carbs are most important in pre-run meals, such as dinner the night before a morning run or a pre-run breakfast". I usually have oats for breakfast, or whole-wheat pasta, brown rice, wholemeal bread the night before a long run.
 
As I mentioned before, I am a slow runner and I also have very low blood pressure, so if I don't eat often my sugar levels drop and I feel dizzy. Therefore, for the longer runs I always have with me a sachet of gel. At the moment I have been using Maurten, and in my view this is probably the best I had so far. I also make sure that I have had enough fluid before and after my runs – and my favourite electrolyte drink is SOS. It's also very good to kill a hangover should you happen to have one!
When I went for my 22km run the other day, I realised that when I finished it I was very thirsty. I hate carrying a water bottle while running. I have for the first time tried the hydration vest from Inov8 - and I actually really liked it. So I used it again for my last long run (24km) - and it was perfect.
Straight after a long run I usually drink a SIS Rego recovery protein shake - I prefer it very cold with ice! Love it.
I regularly eat protein rich food as part of my post-run meals. "Protein assists with muscle growth and repair - and therefore recovery" - more words from my coach Sam. Therefore, I try to load on protein in these post-run meals - quinoa, meat and eggs are often part of my post run meals.
As I said, with all the running that I have been doing I feel very hungry. I also try to have some snacks between my 3 main meals. For the rest days and easy runs I concentrate on the protein intake in my food - I love boiled eggs and they have been my favourites. On the days when I have the long and/ or hard runs the snacks are usually filled with carbs - Sam M mentioned having a bagel with banana, which everyone at my house seems to like as well! I am off to eat something and then go for a run...so if you have some really good tips regarding nutrition - please let me know. 
Oh dear, my laundry!
17th February 2019
Since I started training for the marathon, it feels like running has taken over my life. When I wake up, the first thing I do is think about my next run… when I'm running I think about my running technique (which isn't great, but I will leave this for a different post). Even when I sleep, I have started to dream about my runs... I guess all of this is normal?

What I never thought would happen – is that I would be spending so much time in the laundry! Oh dear, my washing machine has never worked so hard, possibly not even when the boys were babies. 
I wouldn't wear the same piece of running gear twice without washing. That's why I have a feeling that I'm constantly in the laundry doing my washing, and wondering if I will have enough time for it to dry everything on time for my next run.
I do have a good collection of running clothes, technical socks, bras etc. But, I am sure like everyone else, I realised that I have my favourite pieces and always end up wearing the same clothes... so in turn this makes me to do the laundry even more often. Or should I perhaps have more of everything?
Today, I have invested in the speciality sport liquid wash! If I'm doing all of this washing - I may as well do it properly!
 

Head Office Run Club

30th January 2019
Wednesday is the run club day at the office. I haven't been able to go to one for a while now, mostly due to a busy schedule or being in meetings.
This Wednesday was very cold, but the sun was shining against a perfect blue sky. The office was very empty with some of my colleagues attending an offsite meeting. The four of us who remained in the office went for a run at 12.30pm, which is the time the run club typically starts. In my training plan I had a hill session planned – the girls running with me got excited when I told them about the hill session. I asked a few people where I could run some hills in central London. Most people told me to go to Primrose Hill, however we didn't have enough time to run there at lunch time, do the hill session and come back. It had to be a place closer to the office.
I was told to go to Green Park – there's a hill up to the station which is perfect for repeats. When we initially arrived there, I was disappointed about the hill. However, when we started the session which was a "hill pyramid" – 30 secs, 45 secs, 60 secs, 60s, 45s, 30s hard runs with a walk down to recover between reps – I realised the hill was challenging after all. It was perfect - "the hill should feel challenging, but not so steep" - my coach Sam Murphy's words, who also has advised me that it's hard to maintain good running posture if the terrain is too hilly.
Once we started the session, I felt that the girls wanted to kill me, but at the same time I realised they loved the challenge. We all pushed each other and had a good laugh.  It felt much easier to run this session with other people instead of by myself. We felt that the sunshine and our run gave us extra energy when we got back to the office.  
Do you like also running with other people? Most of the Runners Need stores have a free run club – find your nearest one!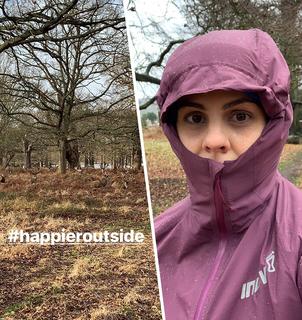 Comfort Zone

27th January 2019
My long runs are always on Sundays, so this means I try to go to bed relatively early on Saturday night. Last Saturday we were invited to an early dinner at our friends' house. I was very happy about the early dinner – this meant going to bed at a decent time. I also offered to be the designated driver so that I would have to control the amount of wine I had! The dinner was amazing - and I made sure to eat all the carbs that were available - all in preparation for my 22k (13.6 miles) run on Sunday morning. 
Yes, 22k - each time I thought about it, I freaked out. I knew that I could run this distance,  but the fact that I have never done it before, deep down, made me panic a bit. I also kept thinking this is just a bit over a half marathon distance...  panic, panic, panic. I was getting out of my comfort zone. I generally don't mind going beyond my zone of comfort as I kind of love how that plays with my head, almost like being competitive against myself...
Due to a number of reasons, my attempt to leave the house at 8.30am failed. Consequently, I had to wait until the afternoon after the twins' swimming class to go for my run. This was a shame since I love going for the long runs in the morning, followed by a 30-minute swimming class after the run – it almost feels like a recovery session at the nice, warm pool.
Anyway, it didn't happen this Sunday, and the more I waited to go out for the 22k, the more nervous I was getting. By 1pm, we were back home, Marko was in charge of feeding the boys, and off I went. I had to layer up as there was very bad weather with strong winds forecasted. The wind was so cold and so strong that I constantly had tears running down my face. Do you know the feeling when you are skiing without goggles? Yes, exactly the same feeling.. but I was wearing running clothes and no gloves! The fact that it was raining didn't bother me - I was wearing the super lightweight jacket from Inov8 which kept me nice and dry.
The plan said I needed to run 22k, with the first 15k at a slow pace, followed by 7k at a faster pace. For the first part of the session, I ran around Richmond Park and faced a tiny bit of sun, strong winds, sleet and drizzle. I saw loads of deer, which put a smile on my face. It doesn't matter how often I see them in Richmond Park, I still have to stop and take a photo. I saw a few other runners – probably all training for a marathon too.
The last 7k pace was supposed be challenging, so I decided to leave the park and trail behind and head for the road. As soon as I stepped onto the pavement I started going a bit faster. I was looking at my watch constantly as I didn't want my pace to decrease. In hindsight, this was probably a mistake. After 6k I felt like crying - I was tired! So I walked for 30 seconds, took a deep breath and continued going. Although I was quite happy with the average speed for this second part of the run, I probably should have started this section a bit slower and avoided the need to walk after 6k.
Before the run, I was nervous about passing the half marathon mark - now that is all in the past! I'm also very proud of myself for completing the first four weeks of my training plan, and so far I haven't failed a single day. Bring on the next 12 weeks of training!
Speedwork and the Face of a Tired Mum!
23rd January 2019
One of our twins has got chickenpox and is feeling quite miserable - if you're a parent, you can understand how difficult my last few nights have been (basically no sleep). This sleep deprivation over the last three nights is making running that much harder.
Earlier this week, when Marko (my husband) got home after work, both boys were already in bed sleeping and I was almost falling asleep myself, wondering if I should skip today's training. But Marko persuaded me to go running by reminding me that I always feel much better after a run - it helps me clear my mind and gives me more patience to deal with a moody, itchy child.  At around 9pm, off I went. I was supposed to do an easy 2k warm up, then 10 x 1-minute runs at a faster pace with a 1-minute break in between. I decided to run to the gym to warm up and do the "speed" session on the treadmill – allowing me to keep the right pace – and then a 2k run back home to cool down. 
On my way to the gym I felt like a zombie. It didn't help that it was cold, dark and I was probably the only person in our neighbourhood running outside. There was just me and the foxes ;) - I had to drag myself those 2k down to the gym.  Although I am not a big fan of running on the treadmill, the speedwork felt great and I managed to keep the pace I was supposed to. The last minute was my fastest time. I felt I still had some energy to push a bit harder. I wasn't supposed to go faster but I wanted to test myself - I was happy with the result. The 2k back home felt very easy afterwards.
I got home, had a banana with peanut butter, jumped in the shower and then collapsed on my bed yearning for a good night's sleep.  Here is a photo of a tired mum training for her first marathon!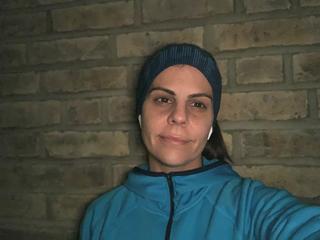 My Shoes
21st January 2019
Just before I started officially training for the Virgin Money London Marathon I decided to have my gait analysed at the Runners Need Covent Garden store. I think the last time I had this done was when I first started working at Runners Need some years ago. Back then I was recommended a support shoe, but the time has passed and I have changed my running style, so for the last few years I have been running on a neutral shoe.
Richard from the Covent Garden store helped me with the gait analysis and interpretation. The shoe that I felt most comfortable with for marathon training (from the three options suggested) was the Fresh Foam 1080v9 from New Balance.
During my three weeks of training so far, I have done almost all my runs in the 1080v9, which I'm really liking the feel of. I particularly like wearing the shoe on long runs and recovery runs. The new Fresh Foam 1080v9 has got the right balance of soft/cushioned and firm/responsive feel.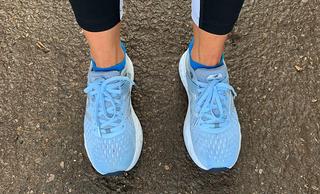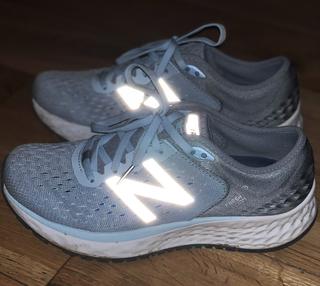 Run Commute
7th January 2019
Another Friday with meetings means running into central London.
This time around I decided to partially run to work, catching the train to Clapham Junction and then running to the office from CJ, which would be around 7k. 

So, on Thursday evening I realised that I didn't have a proper winter coat in the office, or a towel to use after a shower following my run. Basically, all I had was a pair of heeled boots which I always leave at work in case I need a pair of heels.
I took my running-specific 12L OMM backpack and tried to fit my clothes and all the other stuff inside. The backpack is a good size; however, I think I was too optimistic with the amount I was trying to fit inside it. Luckily, I left my laptop on my desk the day before, so that was one thing less to carry on my run.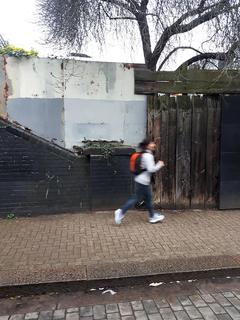 I have run with this backpack before, and although it isn't a women-specific fit, it does fit me perfectly. The adjustable chest strap keeps the backpack in place and the EVA padded shoulder harness feels very comfortable.
I got off the train at CJ where my colleague James was waiting for me. He knew the way, so all I had to do was to enjoy my "commute" to work. The run from CJ was a million times more pleasant than to stand in the packed trains which I usually take in the morning.
It was quite chilly that day, so I wore ON running pants and a mid-layer from New Balance, which turned out to be perfect for the temperature.
The logistics of running to work can be difficult, but again if you are organised it is very doable. My plan now is to leave a few things in the office, so I only need to carry the essentials on my next running commute. I will also probably need to invest in a waterproof backpack in case it rains…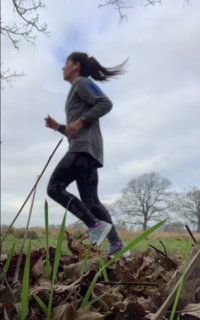 18k Done!
6th January 2019
Back in October 2018 I decided to take part in the Ronhill Run Every Day challenge. Having failed this challenge a few years ago when I still didn't have the twins, I was obviously a bit nervous this time around. It was going to be difficult to complete this challenge.
I had to be very organised to run every day. In the end, I ended up missing a run only on two days: the first one was Day 14 when I was feeling a bit under the weather and my sport masseuse had advised me to listen to my body – so I had a day rest.

I missed the second one because my husband was away on a business trip and I didn't manage to arrange for anyone to look after the boys. Other than those two days, with effort and planning, I managed to complete the challenge and run every day in October.
When I got a place in the London Marathon, my husband gave me a voucher for a session with a running coach as a birthday present. I met Sam (the coach) in central London, and we discussed a few things, including how many times a week I could train, my times in past races, injuries, stretching exercises and similar topics. We also discussed different types of runs; trail, road, hilly, flat routes.  We agreed that the marathon training plan was going to start at the end of December, and she advised me to slowly increase the mileage I was doing back in October.  

Today was the longest run I have done for a long time. At the beginning of November, the furthest distance I'd covered in a long time was 10k. Today, I went out for a run without big expectations since I had missed last week's longer run (15k) due to a bad cold.
I decided to run a completely different route, and set out straight after the twins' swimming classes. For this run I did a combination of road and trail in Bushy Park - the run was lovely and I managed to keep my pace. Only the last two kilometres were a bit of struggle!
Running always amazes me – there are days that you feel great and you still struggle during your run, and then there are days when you don't expect much and yet manage to run for two hours without difficulties or without noticing the time pass by. Today I had one of those.
Morning Running vs Afternoon Running
4th January 2019
I consider myself a morning person. Although I hate waking up late and spending the day in pyjamas, that doesn't mean that I enjoy going for a run at 5am. I would say around 8am is my favourite time for a run.

This is not easily achievable on a work day. My family and I live 30 minutes by train from London and I usually start working at 9.30am in central London, so going for an 8am run around my area isn't always possible. My husband and I take turns dropping off the boys at the nursery twice a week.  
On Fridays, provided I don't have any meetings in the office, I tend to work from home. In this case, I drop off our twins at the nursery and go for a run straight away. 

However today (Friday), I had a meeting at 9.30am in London, so my plan was to wake up at 5am, have a coffee and leave the house. Nevertheless, due to our family from Brazil staying with us, I ended up going to bed well past midnight the previous night - so the 5am wake up happened only in my dreams!
So a lunchtime run in central London was the way to go. The office where I work is in a very busy area of London, so running between all the shoppers and tourists was challenging and I didn't manage to keep the pace I wanted to. It was meant to be an easy 5k run - but ended up being slower than envisaged in my plan.
I still enjoyed the run - I love London - and a few times during my "runch" I had to stop to take photos. Not everyone gets the chance to run the by Embankment, see the St Paul's Cathedral and cross the Millennium Bridge, although admittedly the South Bank was chock-a-block. I guess I will need to look at some other running routes around London, so when I don't have the chance to run locally where I live, I can still go for a run in London and avoid messing up my training plan.
Anyone have any Central London running route suggestions?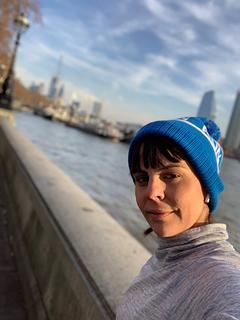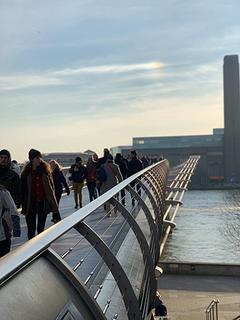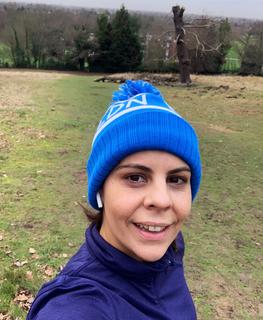 My First Post, My First Marathon
2nd January 2019

In my very first post I would like to introduce myself - my name is Lisandra Carboni, I'm a 39-year old Brazilian living in London, married to Marko and a mum of two twin boys (2.5 years old). I am the footwear buyer for Runners Need.
This blog will be about my first marathon training journey. I love running but I don't really consider myself a runner. I have done many 10k races and four half-marathons. To date, I have never run more than 21k in one go. Although I do love running and it clears my mind, often I lose focus and I stop running for a while. I find that I need to enter a race to keep me motivated.
I have been thinking about running a marathon for a few years now, and I have always managed to find excuses not to run one – "I don't have time to train", or "I don't want to spend hours alone running long distance", or "I have a set of twins" and so many other excuses.
I am very excited now, it feels that the right time has arrived, so I have decided to run the  2019 Virgin Money London marathon in April. When I got the place through my work, the first feeling was one of being nervous and unsure - I needed a few weeks to digest the big news!
On 31st December I officially started my marathon training; it was an easy 5k run. It was good that it wasn't a hilly session, since I was still recovering from a 10-day cold. During my run I spent most of the time trying to work out how I will manage my time. - how I can have quality time with my family and train four times a week in addition to my usual social life and work life.
It is not going to be easy... Good luck to me!
The Journey Begins!
28th December 2018: 120 days to go
Keep track of Runners Need team member Lisandra as she prepares herself for the 2019 Virgin Money London Marathon! With just four months until the big event, Lisandra has some serious training to get stuck into. 
We'll be following her along the way and posting snippets of her training journey, from her first visit to a Runners Need store right up to the race itself. 
If you're training for a marathon or just keen to build up your running distance, bookmark this blog and keep your eyes peeled for the first instalment of Lisandra's training diary!