2019 Virgin Money London Marathon: Lisandra's Training Diary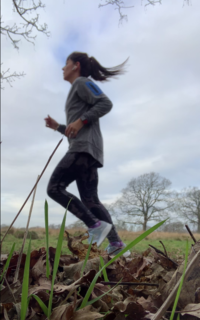 18k Done!
6th January 2019
Back in October 2018 I decided to take part in the Ronhill Run Every Day challenge. Having failed this challenge a few years ago when I still didn't have the twins, I was obviously a bit nervous this time around. It was going to be difficult to complete this challenge.
I had to be very organised to run every day. In the end, I ended up missing a run only on two days: the first one was Day 14 when I was feeling a bit under the weather and my sport masseuse had advised me to listen to my body – so I had a day rest.

I missed the second one because my husband was away on a business trip and I didn't manage to arrange for anyone to look after the boys. Other than those two days, with effort and planning, I managed to complete the challenge and run every day in October.
When I got a place in the London Marathon, my husband gave me a voucher for a session with a running coach as a birthday present. I met Sam (the coach) in central London, and we discussed a few things, including how many times a week I could train, my times in past races, injuries, stretching exercises and similar topics. We also discussed different types of runs; trail, road, hilly, flat routes.  We agreed that the marathon training plan was going to start at the end of December, and she advised me to slowly increase the mileage I was doing back in October.  

Today was the longest run I have done for a long time. At the beginning of November, the furthest distance I'd covered in a long time was 10k. Today, I went out for a run without big expectations since I had missed last week's longer run (15k) due to a bad cold.
I decided to run a completely different route, and set out straight after the twins' swimming classes. For this run I did a combination of road and trail in Bushy Park - the run was lovely and I managed to keep my pace. Only the last two kilometres were a bit of struggle!
Running always amazes me – there are days that you feel great and you still struggle during your run, and then there are days when you don't expect much and yet manage to run for two hours without difficulties or without noticing the time pass by. Today I had one of those.
Morning Running vs Afternoon Running
4th January 2019
I consider myself a morning person. Although I hate waking up late and spending the day in pyjamas, that doesn't mean that I enjoy going for a run at 5am. I would say around 8am is my favourite time for a run.

This is not easily achievable on a work day. My family and I live 30 minutes by train from London and I usually start working at 9.30am in central London, so going for an 8am run around my area isn't always possible. My husband and I take turns dropping off the boys at the nursery twice a week.  
On Fridays, provided I don't have any meetings in the office, I tend to work from home. In this case, I drop off our twins at the nursery and go for a run straight away. 

However today (Friday), I had a meeting at 9.30am in London, so my plan was to wake up at 5am, have a coffee and leave the house. Nevertheless, due to our family from Brazil staying with us, I ended up going to bed well past midnight the previous night - so the 5am wake up happened only in my dreams!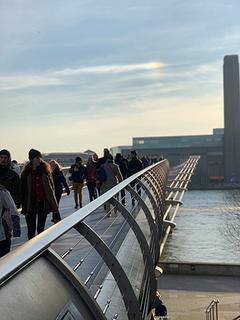 So a lunchtime run in central London was the way to go. The office where I work is in a very busy area of London, so running between all the shoppers and tourists was challenging and I didn't manage to keep the pace I wanted to. It was meant to be an easy 5k run - but ended up being slower than envisaged in my plan.
I still enjoyed the run - I love London - and a few times during my "runch" I had to stop to take photos. Not everyone gets the chance to run the by Embankment, see the St Paul's Cathedral and cross the Millennium Bridge, although admittedly the South Bank was chock-a-block. I guess I will need to look at some other running routes around London, so when I don't have the chance to run locally where I live, I can still go for a run in London and avoid messing up my training plan.
Anyone have any Central London running route suggestions?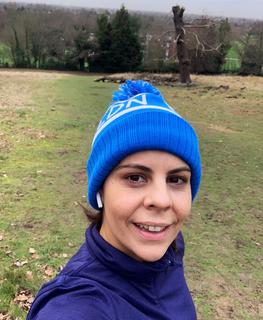 My First Post, My First Marathon
2nd January 2019

In my very first post I would like to introduce myself - my name is Lisandra Carboni, I'm a 39-year old Brazilian living in London, married to Marko and a mum of two twin boys (2.5 years old). I am the footwear buyer for Runners Need.
This blog will be about my first marathon training journey. I love running but I don't really consider myself a runner. I have done many 10k races and four half-marathons. To date, I have never run more than 21k in one go. Although I do love running and it clears my mind, often I lose focus and I stop running for a while. I find that I need to enter a race to keep me motivated.
I have been thinking about running a marathon for a few years now, and I have always managed to find excuses not to run one – "I don't have time to train", or "I don't want to spend hours alone running long distance", or "I have a set of twins" and so many other excuses.
I am very excited now, it feels that the right time has arrived, so I have decided to run the  2019 Virgin Money London marathon in April. When I got the place through my work, the first feeling was one of being nervous and unsure - I needed a few weeks to digest the big news!
On 31st December I officially started my marathon training; it was an easy 5k run. It was good that it wasn't a hilly session, since I was still recovering from a 10-day cold. During my run I spent most of the time trying to work out how I will manage my time. - how I can have quality time with my family and train four times a week in addition to my usual social life and work life.
It is not going to be easy... Good luck to me!
The Journey Begins!
28th December 2018: 120 days to go
Keep track of Runners Need team member Lisandra as she prepares herself for the 2019 Virgin Money London Marathon! With just four months until the big event, Lisandra has some serious training to get stuck into. 
We'll be following her along the way and posting snippets of her training journey, from her first visit to a Runners Need store right up to the race itself. 
If you're training for a marathon or just keen to build up your running distance, bookmark this blog and keep your eyes peeled for the first instalment of Lisandra's training diary!